Interventional Radiology/Endovascular
ASAHI INTECC is a medical device company focused on delivering clinically unique devices used in vascular procedures by interventional cardiologists, interventional radiologists, vascular surgeons, and neurovascular surgeons. We leverage our four core technologies to develop device-based solutions targeted to specific niches where we can achieve a leading market position.
SheathLess PV – Radial or Femoral
Asahi's proprietary Sheathless Technology allows you to perform a full range of procedures – from the simplest to the most complex – via the radial approach.
Everything desired in a guiding catheter
Trackability and lumen maintenance are two of the most important features of a peripheral intervention guide catheter, allowing you to advance the guide catheter to the lesion site and deliver the therapeutic device even through tortuous vessels.
Closer to perfection for device delivery
We developed the SheathLessPV with the aim of creating a guide catheter system you can trust to accommodate any treatment strategy for your peripheral interventions. With strong performance features and an abundance of variations, SheathLessPV can be used with various approaches and vessel types.
The company designs and produces radiation protection equipment designed for the medical world, research, industry and nuclear protection. With over 40 years of innovation, and supported by its scientific college of international experts, it has become the world leader in innovation in its sectors of activity, exporting its technologies throughout the world. LemerPax is very actively involved in the optimization of the protection of operators exposed to ionizing radiation.
To overcome constraints in Electrophysiology – in collaboration with eminent practitioners as Professor Michel Haïssaguerre / Hôpital Cardiologique Haut-Lévêque / University Bordeaux 2 / Institut hospitalo-universitaire LIRYC / Bordeaux-Pessac, France / Lemer Pax has developed a whole range of mobile radiation protection cabins. First models have been developed for procedures like Atrial Fibrillation ablation (AF) followed by systems for interventional cardiology, radiology, neurology and endovascular surgery..
Oscor designs, develops and markets a variety of interventional radiology, cardiology and vascular products.
Destino Twist Unidirectional
Prytime Medical Devices, Inc., an innovative medical device company, designs, develops and commercializes minimally invasive solutions for hemorrhage control.
Prytime Medical Devices, Inc. introduced its latest aortic occlusion catheter. The ER-REBOA PLUS catheter is designed for improved ease of use, now guide wire-compatible (up to .025 ") with improved depth markings for insertion without imaging.
Z-Medica is the home of the innovative blood clotting technology behind QuikClot® family of products for hemostasis. Z-Medica was founded in 2002 by Francis X. Hursey, a veteran of the Apollo Project Breathing Air Team.
Z-Medica manufactures the QuikClot® family of hemostatic products. QuikClot promotes clotting within minutes from application and is safe, effective and easy to use. QuikClot is designed for use by Healthcare Professionals, First Responders, Law Enforcement Officers, Consumers and the Military. QuikClot Combat Gauze® is the only hemostatic agent recommended by the Department of Defense for all branches of the U.S. Military for severe hemorrhage on the battlefield.
QuikClot products are now in their third generation and are impregnated with a mineral called kaolin that has been clinically shown to accelerate the body's natural coagulation cascade. Kaolin is a naturally-occurring, inorganic mineral that does not contain any botanicals, biological material or shellfish products and does not cause any exothermic reaction or vascular complications. QuikClot products are credited with helping thousands of people survive traumatic blood loss every year.
It has been known for many years that the intrinsic blood clotting pathway is inititiated by negatively charged surfaces such as kaolin or glass. Kaolin is utilized routinely in reagents that are used to assay blood clotting times by clinical laboratories that follow procedures that are published by the College of American Pathologists (CAP).
Kaolin is an inert mineral and it promotes clotting by two main modes of action:
• Kaolin promotes the activation of Factor XII (FXII) in the presence of kallikrein and high molecular weight kininogen. Activated FXII initiates the intrinsic clotting pathway via the activation of Factor XI. Activated FXI continues the coagulation pathway that ends with the formation of a fibrin clot.
• Kaolin promotes the activation of platelet-associated FXI and it is a distinct and separate molecule from plasma FXI. Activated platelet-associated FXI initiates the intrinsic clotting pathway in normal and FXII deficient patients.
Blood Coagulation Pathways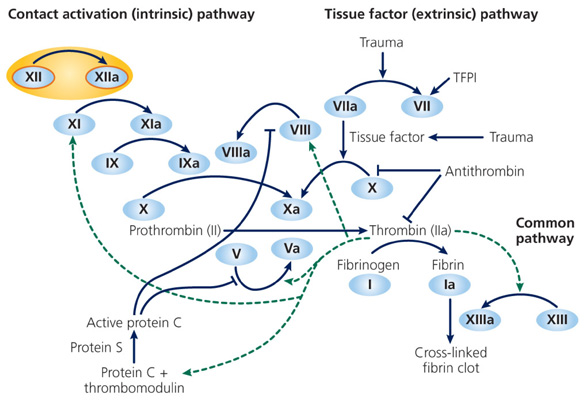 QuikClot® hemostatic devices can help patients survive traumatic blood loss.
The unpredictable nature of patient care requires a reliable way to achieve hemostasis.
QuikClot® EMS hemostatic devices are a life-saving technology that every first responder needs.
Trauma is a major cause of death and disability and the second most expensive healthcare problem in the United States. Approximately 40% of trauma-related deaths are due to bleeding or its consequences, establishing hemorrhage as the most common cause of preventable death in trauma.1
1. Curry N, Hopewell S, Doree C, Hyde C, Brohi K, Stanworth S. The acute management of trauma hemorrhage: a systematic review of randomized controlled trials. Crit Care . 2011;15(2):R92.
QuikClot® hemostatic devices help first responders provide life-saving assistance until additional medical personnel arrive.
Used by many municipalities across the United States, QuikClot® hemostatic devices put life-saving technology into the hands of trained law enforcement officials.
QuikClot Combat Gauze® is the hemostatic dressing of choice stated in the 2014 CoTCCC Guidelines.1
After extensive testing by the United States Army Institute for Surgical Research (USAISR) and the Naval Medical Research Center (NMRC), the Committee on Tactical Combat Casualty Care (CoTCCC) chose QuikClot Combat Gauze®.
1. Tactical Combat Casualty Care Guidelines 2 June 2014. http://www.usaisr.amedd.army.mil/pdfs/TCCC_Guidelines_140602.pdf. Accessed March 25, 2015.