Pocket Press® (CIED*) Pressure Bandage
NOT ALL PRESSURE DRESSINGS ARE CREATED EQUAL….
Traditional pressure dressings provide inconsistent compression due to their make-shift construction. Issues can also include patient discomfort during wear and skin tears upon removal.
We listened to EP clinicians and created a pressure dressing specifically designed for pacemaker and ICD implants.
The Pocket Press *CIED pressure bandage is pre-made, easy to apply, skin-friendly and provides broad pocket compression.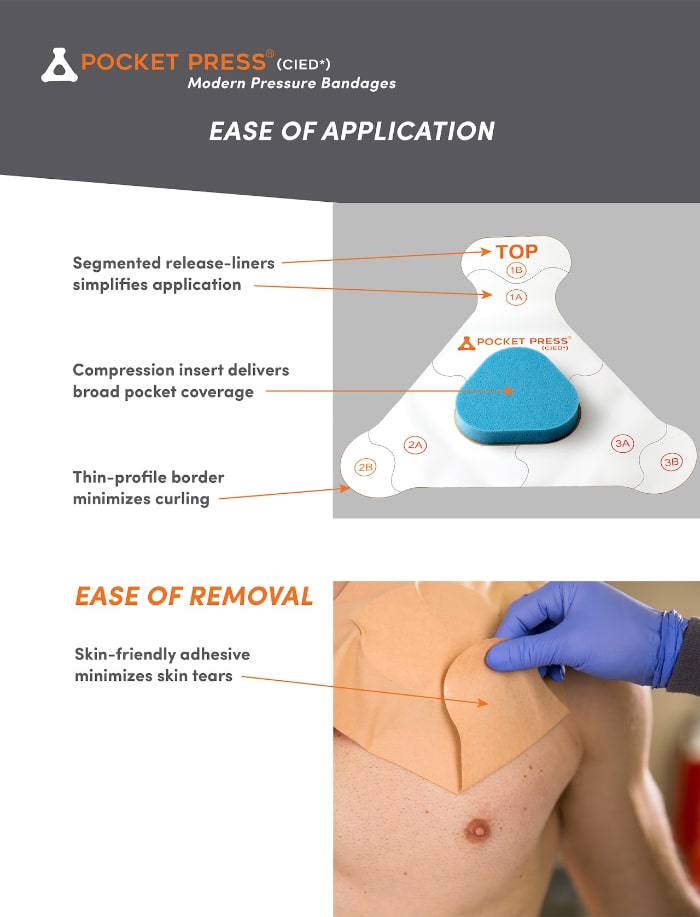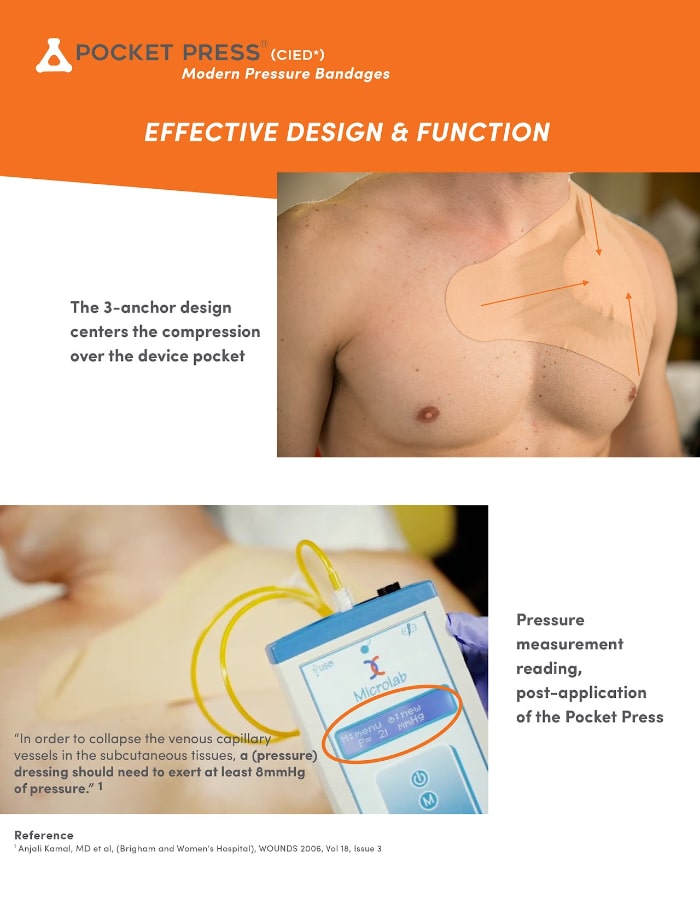 INTRODUCING THE POCKET PRESS *CIED PRESSURE BANDAGE FOR PACEMAKER & ICD IMPLANTS
POCKET PRESS *CIED PRESSURE BANDAGE – VIRTUAL INSERVICE
Texray™ Radiation Protection Textile
Texray has invented the only radiation protection textile in the world. Their unique material and product design can reduce scatter radiation towards the head and neck by up to 97% to enhance the safety of healthcare professionals. The Texray product line can be used in interventional electrophysiology, cardiology, radiology and endovascular surgery procedures where RSK Medical already offers other specialty products.
INNOVATION MEETS COMFORT & DESIGN
Personal radiation protection devices used to protect from harmful ionizing radiation are sometimes unpractical and difficult to use, resulting in unprotected body parts. Some protective garments are uncomfortable and heavy.¹ The commonly used materials do not allow a human-centered design or durable protection.
With Texray we may change that. We have invented a revolutionizing novel material platform with a woven textile technology. The essence of the textile is the attenuating capacity which protects you from potentially harmful radiation. With our innovation we enable unparalleled comfortability with pliable and breathable designs. Leaving you to stay focused, highly protected and with peace of mind in the OR.
WHY DURABILITY IS IMPORTANT
Due to the limitations of most radiation protection products, such as caps, covers and aprons must be stored hanging, to reduce folds. Folds are the sources of pinholes, which develop quickly into major tears. These tears are not always easy to feel through the surface of the material, but are hopefully detected in annual quality testing. Until then, the compromised product is a significant health and safety risk.
Evaluation of a novel thyroid collar designed to reduce head and neck radiation exposure during X-ray guided interventions.
Larsson M, Apell P, Jonasson P, Lundh C. Gothenburg Sweden. Poster presentationat the LINC meeting, Leipzig, Germany, 2020.
Texray HeadPeace and MindPeace were evaluated for reducing radiation exposure to the head and neck during clinical interventions. A standard thyroid collar and a ceiling-mounted lead glass shield were used as comparisons.
Preliminary TLD data showed that MindPeace (extended thyroid collar) reduce radiation in the throat, chin, and ear slices (A, B, C). Some shielding effect using MindPeace was also seen in the brain and skull slices (D, E). For the standard thyroid collar a reduction was only seen in the throat slice (A) and partly in the chin slice (B). HeadPeace showed a shielding effect in the skull slice (E) up to 2 cm depth where HeadPeace covered the phantom head.
For optimal radiation protection, devices that protect the entire operators head against scattered radiation should be used. However, in clinical practice, this may not always be possible. Moreover, particularly during complex cases when radiation protection may be most relevant, optimal placement of lead glasses may not always be achievable. HeadPeace and MindPeace may therefore provide complimentary protection.
The company designs and produces radiation protection equipment designed for the medical world, research, industry and nuclear protection. With over 40 years of innovation, and supported by its scientific college of international experts, it has become the world leader in innovation in its sectors of activity, exporting its technologies throughout the world. LemerPax is very actively involved in the optimization of the protection of operators exposed to ionizing radiation.
To overcome constraints in Electrophysiology – in collaboration with eminent practitioners as Professor Michel Haïssaguerre / Hôpital Cardiologique Haut-Lévêque / University Bordeaux 2 / Institut hospitalo-universitaire LIRYC / Bordeaux-Pessac, France / Lemer Pax has developed a whole range of mobile radiation protection cabins. First models have been developed for procedures like Atrial Fibrillation ablation (AF) followed by systems for interventional cardiology, radiology, neurology and endovascular surgery.
Complete radiation protection
No lead aprons, no fatigue
Eliminate orthopaedic risks
Greater efficiency, more cases
No change of working practices
Comfort and mobility
Free of movements
Easily decontamined
Oscor designs, develops and markets a variety of interventional radiology, cardiology and vascular products.
Destino Twist Unidirectional