Patients/Consumers- Qualiteam Vests & Tozuda Head Impact Sensors
The TOZUDA Head Impact Sensor
The TOZUDA Head Impact Sensor can be easily attached to hockey, snowboarding, snow-skiing, football, cycling and construction helmets to name a few. Who it's for: Football, Snow, Hockey, Bike, Construction, First Responders, Equestrian, Motocross, Climbing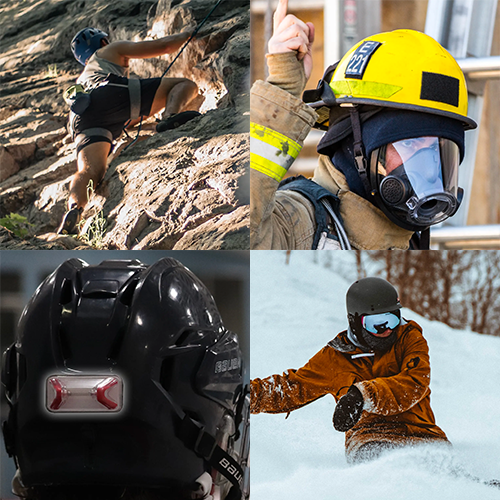 About Head impact Indicators:
Tozuda Indicators react instantaneously to forces from any direction. Our Indicators withstand regular helmet use and minor impacts, but can indicate when a hit is potentially damaging.
Direct and indirect impacts to the body can trigger the Indicator to activate, meaning the indicator can also react to dangerous hits to the body. Once activated, Tozuda Head Impact Indicators turn bright red, alerting the user or bystanders to a potential head injury.
Tozuda Head Impact Indicators react to the acceleration of an impact, and indicate when a user should be evaluated by a medical professional before returning to their activity.
Qualiteam is dedicated to advance postoperative care and to improve the overall hospital experience for patients worldwide by developing innovative wound supports that ultimately result in cost savings for healthcare systems. We provide our products and services with compassion as if each patient was part of our family, and we treat customers and fellow team members with honesty, integrity, and respect in all aspects of our activities.
QualiBreath is the ideal product for patients who have had a sternotomy or other interventions in the chest.
It is a chest surrounding sternum support with integrated handles for increased support available in all sizes for adults, pediatric and infant patients.
Calla for Plastic and Cosmetic Surgery
Exceptionally beautiful, light and comfortable compression for use after cosmetic and plastic surgery procedures such as face lift, neck lift, chin and jaw augmentation, and liposuction (chin, neck) procedures.
Calla Breast Implant Stabilizer Band
A very pretty breast implant stabilizing band with velcro closure.
Designed to provide a light downward stabilizing pressure to prevent implant slippage and promote proper implant positioning after breast implantation procedures, also known as breast augmentation mammoplasty, a surgery
to increase breast size.
Features adjustable velcro closure over a 15 cm length.
Available in a beautiful elastic lace soft material in white or black colors.
Calla Lace breast implant stabilizer band should be used as instructed by the surgeon, generally for several weeks after surgery.
QualiBra Advanced is a nurse designed postoperative sternum and breast support, uniquely for women seeking for comfort and practicality in one device.
QualiBelly Advanced is a unique tri-band abdominal support for critical interventions. Created to improve functionality and observation methods of the abdominal wound for health care personnel.
Designed to advance postoperative recovery and comfort for the patient.
It promotes recovery, gets patients liberated earlier from bed and allows them to walk upright without putting strain on the wound.
Efficient maternity support belt that helps relieving back and hip pain in the second and third trimester of pregnancy and to prevent pelvic instability.
Improves posture and comfort.
Lifts and supports the expanding belly thereby protecting the abdominal muscles and ligaments from over-stretching.
Possibly prevention or decrease of stretch marks, varicosities and swelling of legs, potential incontinence.Ideal for fuller-sized women or obese patients who have had a sternotomy or other interventions in the chest.