Surgery – Cardiac, Vascular, Endovascular, General
ProCell® is a patient blood management device for intraoperative autotransfusion (IAT). ProCell's Sponge Blood Recovery Unit facilitates the extraction of blood from surgical sponges as a preliminary step in the IAT process. ProCell® functions as a blood collection device only and does not filter or process the blood recovered.
Improves workflow and encourages better patient blood management practices.
Enhances blood conservation.
Cost-effective accessory to a hospital's existing intraoperative autotransfusion (IAT) equipment.
Eliminates potential occupational health hazards.
Powered by standard OR vacuum suction.
Innovative technology that is easy to use.
Compact, sterile, and disposable.
Can be used repeatedly during a single patient use.
Increases efficiencies with no mess.
Optimizes sponge-blood recovery.
Delivers an overall improved patient outcome.
Represents a new standard of care.
Prytime Medical Devices, Inc., an innovative medical device company, designs, develops and commercializes minimally invasive solutions for hemorrhage control.
Prytime Medical Devices, Inc. introduced its latest aortic occlusion catheter. The ER-REBOA PLUS catheter is designed for improved ease of use, now guide wire-compatible (up to .025 ") with improved depth markings for insertion without imaging.
Oscor designs, develops and markets a variety of interventional radiology, cardiology and vascular products.
Destino Twist Unidirectional
Qualiteam is dedicated to advance postoperative care and to improve the overall hospital experience for patients worldwide by developing innovative wound supports that ultimately result in cost savings for healthcare systems. We provide our products and services with compassion as if each patient was part of our family, and we treat customers and fellow team members with honesty, integrity, and respect in all aspects of our activities.
QualiBreath is the ideal product for patients who have had a sternotomy or other interventions in the chest.
It is a chest surrounding sternum support with integrated handles for increased support available in all sizes for adults, pediatric and infant patients.
Calla for Plastic and Cosmetic Surgery
Exceptionally beautiful, light and comfortable compression for use after cosmetic and plastic surgery procedures such as face lift, neck lift, chin and jaw augmentation, and liposuction (chin, neck) procedures.
Calla Breast Implant Stabilizer Band
A very pretty breast implant stabilizing band with velcro closure.
Designed to provide a light downward stabilizing pressure to prevent implant slippage and promote proper implant positioning after breast implantation procedures, also known as breast augmentation mammoplasty, a surgery
to increase breast size.
Features adjustable velcro closure over a 15 cm length.
Available in a beautiful elastic lace soft material in white or black colors.
Calla Lace breast implant stabilizer band should be used as instructed by the surgeon, generally for several weeks after surgery.
QualiBra Advanced is a nurse designed postoperative sternum and breast support, uniquely for women seeking for comfort and practicality in one device.
QualiBelly Advanced is a unique tri-band abdominal support for critical interventions. Created to improve functionality and observation methods of the abdominal wound for health care personnel.
Designed to advance postoperative recovery and comfort for the patient.
It promotes recovery, gets patients liberated earlier from bed and allows them to walk upright without putting strain on the wound.
Efficient maternity support belt that helps relieving back and hip pain in the second and third trimester of pregnancy and to prevent pelvic instability.
Improves posture and comfort.
Lifts and supports the expanding belly thereby protecting the abdominal muscles and ligaments from over-stretching.
Possibly prevention or decrease of stretch marks, varicosities and swelling of legs, potential incontinence.Ideal for fuller-sized women or obese patients who have had a sternotomy or other interventions in the chest.
Z-Medica is the home of the innovative blood clotting technology behind QuikClot® family of products for hemostasis. Z-Medica was founded in 2002 by Francis X. Hursey, a veteran of the Apollo Project Breathing Air Team.
Z-Medica manufactures the QuikClot® family of hemostatic products. QuikClot promotes clotting within minutes from application and is safe, effective and easy to use. QuikClot is designed for use by Healthcare Professionals, First Responders, Law Enforcement Officers, Consumers and the Military. QuikClot Combat Gauze® is the only hemostatic agent recommended by the Department of Defense for all branches of the U.S. Military for severe hemorrhage on the battlefield.
QuikClot products are now in their third generation and are impregnated with a mineral called kaolin that has been clinically shown to accelerate the body's natural coagulation cascade. Kaolin is a naturally-occurring, inorganic mineral that does not contain any botanicals, biological material or shellfish products and does not cause any exothermic reaction or vascular complications. QuikClot products are credited with helping thousands of people survive traumatic blood loss every year.
It has been known for many years that the intrinsic blood clotting pathway is inititiated by negatively charged surfaces such as kaolin or glass. Kaolin is utilized routinely in reagents that are used to assay blood clotting times by clinical laboratories that follow procedures that are published by the College of American Pathologists (CAP).
Kaolin is an inert mineral and it promotes clotting by two main modes of action:
Kaolin promotes the activation of Factor XII (FXII) in the presence of kallikrein and high molecular weight kininogen. Activated FXII initiates the intrinsic clotting pathway via the activation of Factor XI. Activated FXI continues the coagulation pathway that ends with the formation of a fibrin clot.
Kaolin promotes the activation of platelet-associated FXI and it is a distinct and separate molecule from plasma FXI. Activated platelet-associated FXI initiates the intrinsic clotting pathway in normal and FXII deficient patients.
Blood Coagulation Pathways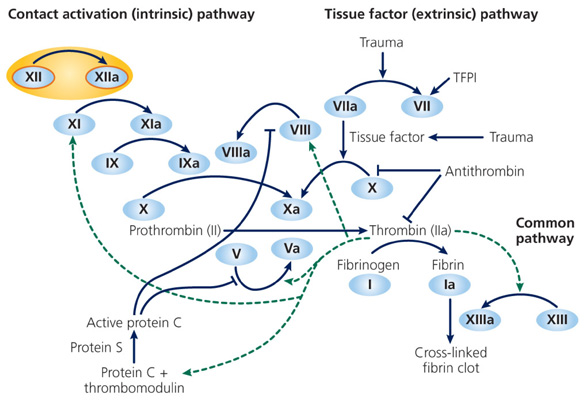 QuikClot® hemostatic devices can help patients survive traumatic blood loss.
The unpredictable nature of patient care requires a reliable way to achieve hemostasis.
QuikClot® EMS hemostatic devices are a life-saving technology that every first responder needs.
Trauma is a major cause of death and disability and the second most expensive healthcare problem in the United States. Approximately 40% of trauma-related deaths are due to bleeding or its consequences, establishing hemorrhage as the most common cause of preventable death in trauma.1
1. Curry N, Hopewell S, Doree C, Hyde C, Brohi K, Stanworth S. The acute management of trauma hemorrhage: a systematic review of randomized controlled trials. Crit Care . 2011;15(2):R92.
QuikClot® hemostatic devices help first responders provide life-saving assistance until additional medical personnel arrive.
Used by many municipalities across the United States, QuikClot® hemostatic devices put life-saving technology into the hands of trained law enforcement officials.
QuikClot Combat Gauze® is the hemostatic dressing of choice stated in the 2014 CoTCCC Guidelines.1
After extensive testing by the United States Army Institute for Surgical Research (USAISR) and the Naval Medical Research Center (NMRC), the Committee on Tactical Combat Casualty Care (CoTCCC) chose QuikClot Combat Gauze®.
1. Tactical Combat Casualty Care Guidelines 2 June 2014. http://www.usaisr.amedd.army.mil/pdfs/TCCC_Guidelines_140602.pdf. Accessed March 25, 2015.