Neurology-Pain Management (nVNS) for Primary Headaches
RSK Medical will serve as the exclusive distributor of the gammaCore Sapphire™ is a non-invasive vagus nerve stimulator (nVNS) in Canada, supplying therapy to patients suffering with primary headache disorders.
We achieved a technical breakthrough in 2010 when we developed the ability to administer vagus nerve stimulation non-invasively (nVNS) by delivering a proprietary signal through the skin to either the right or the left branches of the vagus nerve in the neck.
It is the longest cranial nerve in the body, primarily serving as a sensory nerve, bringing information from the visceral organs to the brain. The vagus nerve has a number of branching nerves that go to the heart, lungs, voice box, stomach, ears, and other organs. As a sensory nerve that assesses the condition of these organs, it is the communication between the brain and the body. It contains motor and sensory fibers and, because it passes through the neck and thorax to the abdomen, has the widest distribution in the body.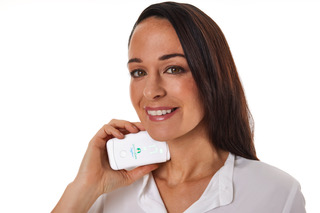 What happens when nVNS is used?
Stimulating the vagus nerve affects many important autonomic functions in the brain and in the body, including neurotransmitter levels, inflammation levels, and metabolism.
Testimonials / Témoignages
"I have been suffering from episodic cluster headache for about 30 years. On average, cluster periods last 8 weeks. This year, it started towards the end of June. I had almost one pain attack a day despite the medication. So, I decided to try the GammaCore treatment. I started the treatment at the beginning of the fourth week and the results were immediate. I had a single pain attack the next day which lasted 20 minutes (normally it lasts 2 hours) and it was less intense. After 4 weeks of use, the pain is almost gone. In my opinion, this treatment may be an effective solution for the treatment of the episodic cluster headache and it is worth a try."
N.N., Ph.D, Moncton, N.B.
"Je souffre depuis environ 30 ans de l'algie vasculaire de la face . En moyenne, mes crises de douleurs durent 8 semaines. Cette année, ça a commencé vers la fin du mois de juin. J'ai eu pratiquement une crise par jour malgré les médicaments. J'ai alors décidé d'essayer le GammaCore. J'ai commencé le traitement au début de la quatrième semaine et le résultat était immédiat. J'ai eu une seule crise de douleur le lendemain d'une durée de 20 minutes (normalement ça dure 2 heures) et c'etait moins intense. Après 4 semaines d'utilisation, la douleur a pratiquement disparu. À mon avis, ce traitement peut être une solution efficace pour le traitement de l'algie vasculaire de la face et ça vaut la peine de l'essayer pour au moins un mois."
N.N., Ph.D, Moncton, N.B.
"Having been a long-time sufferer of headaches, the idea that a device versus medication could work to prevent or treat the headache filled me with skepticism. I read the scientific data and felt comfortable with the existing evidence so I ordered the device. Sapphire has been a wonderful surprise and I am so happy to have made the decision to try it. Headaches plague my week and can be triggered by weather condition changes or stress, amongst other random issues related to a head injury suffered a few years ago. I use the device in the absence of symptoms as well as the first sign of an impending headache and it truly works. As I sit today, one of the worst rainstorms this year, after using the device preventatively, I am happily headache free. I would highly recommend following a set regimen to prevent the onset of headaches, this device has been extremely helpful in returning my life back to normal."
S.B., Markham, ON.
"I have had multiple concussions and I have struggled with persistent symptoms for two years after my last concussion. Headaches are what I mostly still struggle with today. I used the electroCore Sapphire for 2 months and found relief from it. I found that it decreased my headaches overall, as well as in the moment when I started getting a headache. I also felt as if it calmed my nervous system, which was helpful."
A.M., Toronto, ON.
The TOZUDA Head Impact Sensor
The TOZUDA Head Impact Sensor can be easily attached to hockey, snowboarding, snow-skiing, football, cycling and construction helmets to name a few. Who it's for: Football, Snow, Hockey, Bike, Construction, First Responders, Equestrian, Motocross, Climbing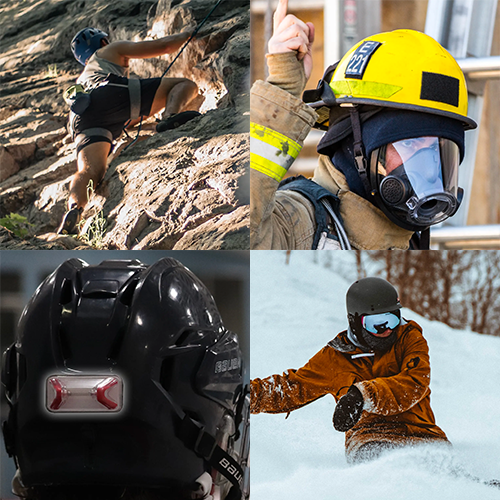 About Head impact Indicators:
Tozuda Indicators react instantaneously to forces from any direction. Our Indicators withstand regular helmet use and minor impacts, but can indicate when a hit is potentially damaging.
Direct and indirect impacts to the body can trigger the Indicator to activate, meaning the indicator can also react to dangerous hits to the body. Once activated, Tozuda Head Impact Indicators turn bright red, alerting the user or bystanders to a potential head injury.
Tozuda Head Impact Indicators react to the acceleration of an impact, and indicate when a user should be evaluated by a medical professional before returning to their activity.